WHY THE NEED?
In a nutshell, the state doesn't provide enough funds per pupil to provide Belmont-Redwood Shores students with a wellrounded education. Property taxes don't adequately fund exceptional education. We live in an area with a highly educated work-force and fierce competition for quality jobs, yet our schools are funded at nearly the lowest level in the nation. State funding provides only $8,587 per BRSSD student – the lowest per-pupil funding in San Mateo County – and well below the statewide average of $9,987. California ranks 46th in the nation for per-pupil funding*, $3,462 less than the national average.
Over the past 13 years, BRSSD's student population has grown by 80%, yet per-student funding has actually declined. Current funding covers only minimal core academic requirements. State funding does not deliver a well-rounded, robust learning environment that includes science, libraries, social and emotional support, music, art, or help for kids who need academic intervention.
Today, state funding pays for approximately 82% of what we need to educate our children. The rest comes from a local parcel tax and from your donations to SchoolForce.
*Source: edsource.org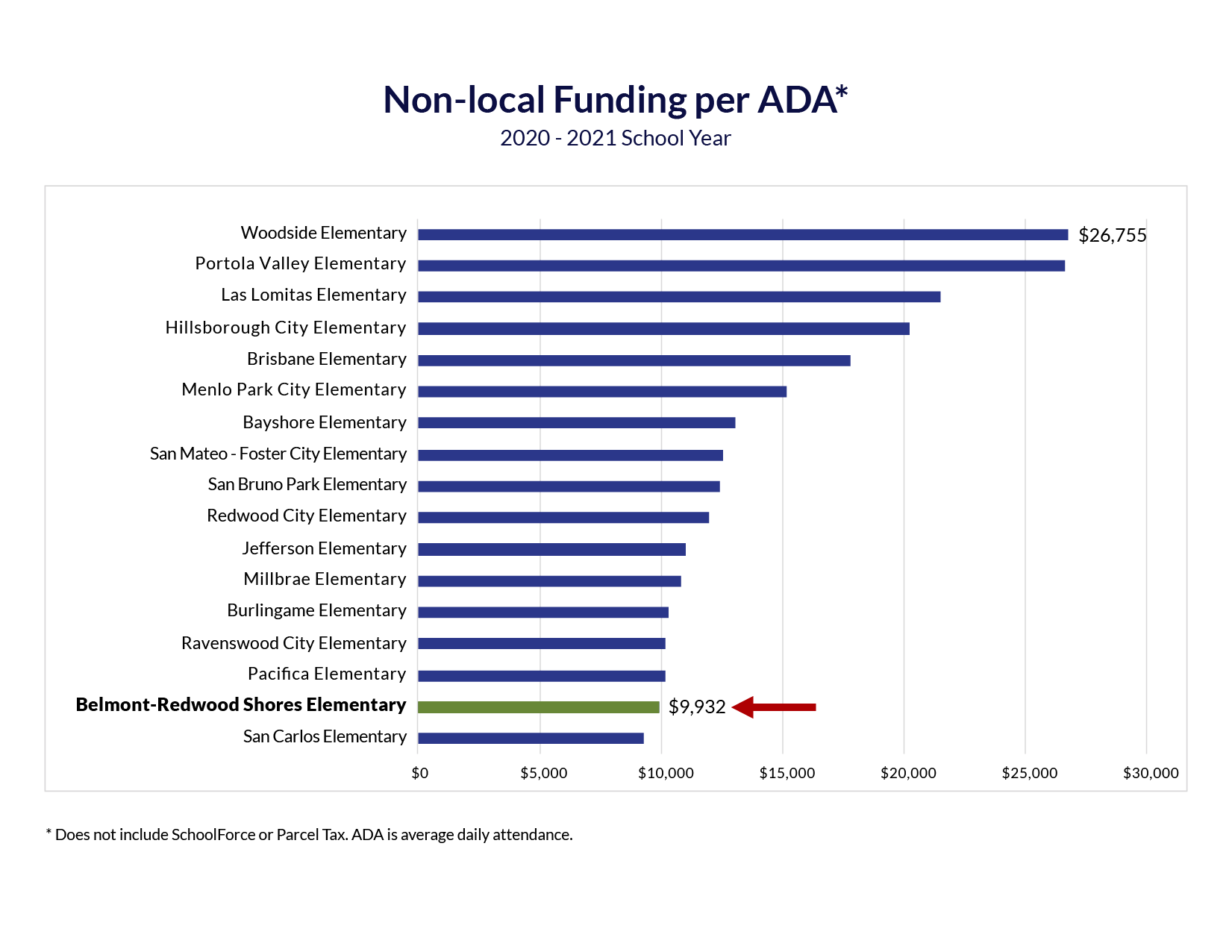 BRSSD FUNDING SOURCES
Since the passage of Proposition 13 in 1978, property tax increases were capped causing funding to public schools to dwindle. Approximately 40% of all property tax paid goes to education. These funds are then divided between UCs, CSUs, community colleges, high school districts, and our local TK-8 district (BRSSD).
The state budget consists not only of property tax, but also of corporate taxes, income taxes and sales tax. Each year the state determines a baseline funding amount based upon its budget for educating a child. This formula severely under-funds public education in Belmont-Redwood Shores and thus, in order to keep high quality education in our community, additional funding is needed.
HOW STATE FUNDING IS ALLOCATED
2020-2021 California Budget
Spending
$132.9 Billion
Revenue
$131.3 Billion
Source: budgetchallenge.org
California Budget May 2020 Revise